Common Sidewalk Accidents & Injuries
Sidewalk hazards contribute to pedestrians tripping and falling every day in New York City. These common conditions can lead to sidewalk accidents and injuries:
Uneven or steeply-sloped sidewalks or walking surfaces
Bicycling or pedestrian accidents occurring on sidewalks
Poorly-maintained stairs, balconies, railings, docks, or ramps
Improperly-labeled cement or sidewalk-construction sites
Objects obstructing the ground, including clutter, ropes, cords, wiring, or even tree roots or stumps
Spilled fluids, drinks, water, food, oil, grease, or chemicals on the floor
Construction or worksite hazards, such as falling objects or debris
Inclement weather: heavy rain, ice, sleet, sludge, snow
Tripping, slipping and falling on sidewalks, walkways, and other ground surfaces can cause extensive injuries and pain. Falls contribute to an estimated 65 percent of all missed workdays in the U.S., and they send approximately one million Americans to the hospital every year. In NYC, a dedicated sidewalk injury lawyer can help accident victims seek damages for their pain and suffering.
Sidewalk accidents usually result from tripping, slipping, falling, or being struck by an object. These types of accidents can lead to a variety of injuries ranging from simple scrapes, bruises, and lacerations to more serious sprains, fractures, traumatic brain injuries (TBI), and spinal cord injuries (SCI).
In rare instances, sidewalk injuries can result in permanent disfigurement, scarring, paralysis, or even death. Sidewalk injury attorneys at the Law Offices of Eric Richman help protect the rights of victims following a sidewalk accident.
Sidewalk Maintenance Requirements
Sidewalk safety, construction, and engineering are primarily enforced by two main codes: the Building Code of New York and the Administrative Code of NYC.
Here are a few examples of ordinances governing how public and private sidewalk owners must maintain walkway safety:
New York walkways must be maintained to be reasonably safe and kept free of snow.
Wheelchair ramps must be kept clean of debris that could be hazardous for people with disabilities.
Ramps and steps must not have too sharp of an incline or be taller than seven inches.
Stairs and walkways should not be littered with objects, debris, or debris that could lead to someone tripping or slipping.
Stairs must be reasonably well-lit enough to avoid accidents or injury.
Injuries from sidewalk accidents can take a physical and emotional toll, along with impacting long-term health, career trajectory, personal finances, and overall well-being. If you or a loved one are dealing with a sidewalk-related injury, reach out to a sidewalk accident lawyer in NYC today. They may be able to help you recover damages for your pain and suffering. 
Who Is Responsible After a Sidewalk Accident?
In New York City, publicly-owned sidewalks are maintained and operated by the local and state government. Ordinances, codes, and laws detail how the responsible parties should maintain public sidewalks and walking areas for the safety of pedestrians. Privately-owned sidewalks that are located on or adjacent to privately-owned land are also required to be reasonably safe.
In the early 2000s, the state of New York shifted a significant amount of sidewalk maintenance responsibility to property owners. Plenty of walkways still fall under their purview, however, including construction zones and sidewalks adjoining certain one, two, or three-family residences.
Multiple parties may be held at fault in the event of a trip, slip, or fall on a sidewalk in NYC:
Filing a Sidewalk Accident Lawsuit
Every year, New Yorkers request expert legal representation due to injuries and expenses resulting from sidewalk accidents. Depending on the injury, both personal injury and premises liability claims may be made. An experienced sidewalk injury attorney can help you navigate this complicated area of the law and may help recover compensation for medical bills, long-term care, and lost wages. They can also sue for non-financial damages, including pain, suffering, and mental and emotional distress.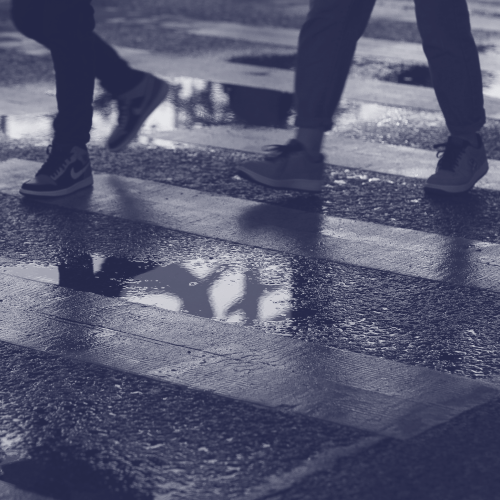 Contact a Sidewalk Accident Lawyer at the Law Offices of Eric Richman
Our legal team is available 24/7. Give us a call at
1-800-801-9655
or click the button below to request a free consultation for your case.